i am jen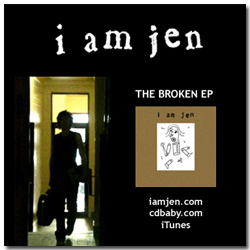 i am jen is Jen Scaturro, New York's electronic-pop "play everything" girl.
Known for her future-modern synth & beat programming, eclectic songwriting
and multi-instrumentalist antics, Jen has stepped out of the studio to
reveal her true identity…
i am jen's scientific blend of pop-tronic music is hypnotic, transparent
and atmospheric. With a stylistic mix of clever vocal processing, hooky
synth lines and electronic beats, Jen has grabbed the attention of BBC
radio, national music publications and fans across the globe.


The Broken EP
, a self-produced, four song release introducing i am jen, has
been embraced with international exposure. The late & great John Peel (Radio 1) played "At
the Same Time" on his show last summer. Other stations soon followed in
Europe and across the web. MTV & HBO have licensed songs for their films
and TV shows, and the music has been featured in Keyboard and Future Music
magazines.
Synths, bass, guitar, drum machines, melodica, stylophone, accordion…Jen was
playing piano before she could walk. She toured the west coast in jazz and
pop bands, recorded a single and build a recording studio in her bedroom by
age 15.
2 colleges, 3 cities, 4 bands and 7 apartments later jen filled her New York
city studio with solitude and fed her computer everything that made sound.
Her electro-pop stylings caught the ears of major label stars. Programming
beats and synth parts on albums progressed to producing songs for records,
film & TV.

click for more information on
i am jen
.