TechnoSquirrels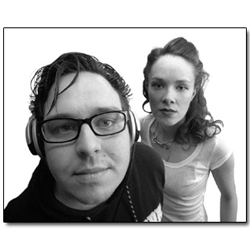 TechnoSquirrels is a Los Angeles based techno collaboration. Both Lisa and Ryan have been active musicians for years playing in rock bands and making their own techno music. They first met in Liverpool, England, when they studied sound technology at the Liverpool Institute for Performing Arts in 1999.

Lisa grew up in Sweden - a country known for its long winter nights. But where there are long nights, there are long raves and Lisa quickly found herself immersed in Sweden's techno scene in the early 90s. "Fluke and Underworld," says lisa. "That was my awakening. I instantly traded in my collection of Black Sabbath vinyl for a Korg MS-10 and a Roland 606 drum machine." Her early endeavors into techno were defined by what the MS-10 does best, strange noises. But after getting a last minute ticket to Björk's promotional small-club tour for her "Debut" CD in '93, Lisa heard how well melody and electronic noise can coexist.

Ryan is straightforward about his exposure to Techno. "I hated it. I had long discussions with 'music purists' denouncing the repetition and 8 note loops that defined the house music I had heard in car commercials and bad movies." It was a move to England in the mid-90s that changed Ryan's mind. Living in Liverpool in the shadow of England's famed "CREAM" dance club, Ryan couldn't avoid a flurry of electronic music that went beyond what he had thought possible. This wasn't just 2 bar loops on tv commercials. This was techno in the best sense of the word. "I made a U-Turn, bought some Massive Attack and Chemical Brothers, and started using my brother's orchestral workstation synth to make far less- refined sounds."

It was in Liverpool that Lisa and Ryan met, but it wasn't where Techno Squirrels started. Lisa and Ryan continued working on their own projects. Lisa became one half of the Euro-Art-Rock band, Schulte/Eriksson - who's single eventually found its way to legendary BBC DJ John Peele. She also lent her voice to Ladytron's breakthrough single, "He Took Her To A Movie." Ryan, however, took a break from music to follow a completely unrelated, yet strangely parallel track of computer programming and film editing as a co-founder of Emo Riot Productions.

After moving to Los Angeles, Lisa began working on new techno material based on the culture shock of being in a city with 3 times the population of her entire home country. As she worked on new beats she would regularly show Ryan her latest ideas. Meanwhile, a third party made repeated appearances outside the window - a friendly neighborhood squirrel whose fear of humans was outweighed by it's taste for organic hazelnuts.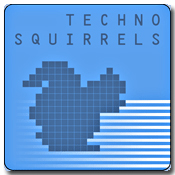 The ideas Lisa shared with Ryan quickly became collaborative projects - with Reason and Rebirth files getting passed back and forth - and ultimately put the two in the studio to record their first single release, "Mute." Techno Squirrels was born.

more information
here