ror-shak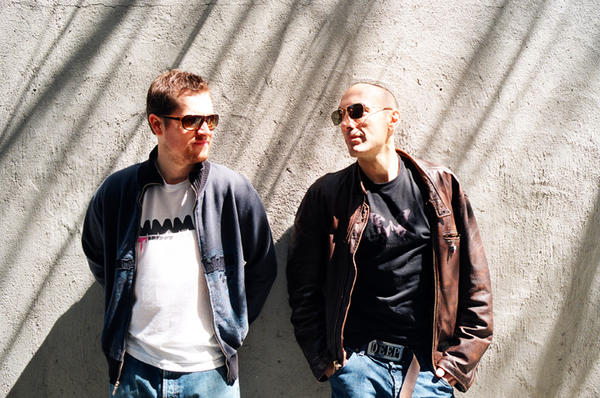 Ror-Shak
started out as a bit of an experiment. Stakka asked DB if he would like to collaborate on a track for a single? after a little resistance because of an extreme aversion to studio's due to frustrating experiences in the past, he agreed to give it a go.
Their first effort was a dancefloor tune called 'Groupies', signed & released by Breakbeat Science, its now long out of print & quite sought after. The real success for DB was not the fact that the single sold out, but that the studio process was relatively painless & the results were wicked. He was so impressed with Stakka's studio ability, they quickly started making a follow up, but something was happening this time, the sound they kept being drawn to was not dancefloor drum & bass. It was a much more musical form of the genre. Going with their gut feeling, they decided to make something more for listening & not just dancing.
Both had been really inspired by Zero 7 & felt that should be the basic pallet to work from, but they also took inspiration & sounds from a whole host of diverse artists that had rocked the duo's mind's, body's & soul's over the years.
Things took on even more of a 'real' record feel, when they nervously approached signer Julee Cruise, who they had sampled, asking her to listen & hopefully give her permission for the use. Not only did she give her enthusiastic blessing, but offered to write some original material and to sing them on the album.
Ror-Shak's album 'Deep' is an exercise in taking an extreme musical form and turing it into something that regular music lovers find enjoyable and exciting, without even knowing its rooted in d&b, while not making it boring for the true heads.
With live musicians and singers guesting, such as Chantal Claret and Pedro Yanowitz from Moriningwood, Lisa Shaw and Mark Holmes, the album did end up taking over 12 months to make. Mostly due to Stakka's obsessive attention to detail, his efforts are really evident when listened to on headphones.
The name Ror-Shak is a play on the swiss psychiatrist Dr Rorschach, who devolved the ink blot test in which everybody sees something different. In Ror-Shak's case, everyone hears something unique, it's also a tip of the hat to Alan Moore for His Watchman character by the same name.